Okay okay, here's a new, lame video blog.
So anyway, this was an attempt to spice up an otherwise dull lab experiment. We're so mature, I know.
Featuring:
my friend and fabulous lab partner, Justine!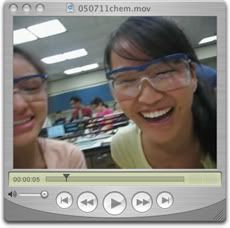 3.1 mb, 0:39 seconds
Boring science explanation:
The top layer is HCl in cyclohexane, and the bottom layer is HCl in distilled water. We were testing solutions for conductivity. The HCl in water conducts electricity because water is a very polar solvent, and it causes the HCl to form H+ and Cl- ions, which are excellent conductors.
And
that
, my friend, is why I'm one of 5 people getting an A in the class (sorry, I need to gloat because people in our class think we're ditzy; but really, we're kicking ass, academically speaking).